Moda en cortes de cabello para damas y caballeros
Fashion haircuts for both ladies and gentlemen by the beginning of 2020, I will tell you the ones that I like the most and that are versatile.
De la moda en cortes de cabello tanto para damas y caballeros para inicios del 2020, les voy a comentar los que más me han agradado y que son versátiles.
For those who like short hair, there is the Garçon style that is super short and glued to the head
without volume.
Para las que les gusta el cabello corto, está el estilo Garçon que es super corto y pegado a la cabeza sin volumen.
The Bob-carré style, with irregular ends, gives you a modern look.
El estilo Bob-carré a pesar de ser corto, tiene unas puntas desenfadadas lo que lo hace bastante divertido y actual.
The midi as you wish to wear curly, lacing, asymmetrical, or layered, it's another good option. And you could wear irregular ends, that gives a lot of movement to the hair.
El midi como lo desees llevar rizado o lacio, asimétrico o con capas. Es otra buena opción y podrías llevar el despuntado en las puntas. Lo que le da un cambio porque da bastante movimiento al cabello.
For long hair can be worn without layers, or highlights, for which they want to keep long. You could also use tip-straightening, but preferably with a layered cut to give it movement.
Para el cabello largo se puede llevar sin capas, ni despuntes, para las que quieren mantener largo. También se podría utilizar el despuntado en las puntas, pero preferiblemente con un corte en capas para darle movimiento.
For gentlemen can try until they find what they like. They have more options because they can get a mustache, beard or nothing.
Para los caballeros siento qué igual que nosotras pueden probar, lo que les gusta hasta encontrar lo que les agrade. Aunque tienen más opciones porque pueden dejarse bigote, barba o quedarse sin nada.
You can complement the haircut with the beard or mustache. This way, you will see the look harmonized. If you have time to dedicate to your physical appearance, you can choose this option.
Puedes hasta lograr que se complemente el corte de cabello, con la barba o el bigote. De esta manera se verá más armonizado el "look". Si tienes más tiempo para dedicarle a tú apariencia física, puedes optar por esta opción.
The pompadour style is degraded and textured. But you can adapt it to the length that you feel most comfortable, without necessarily wearing it very low to the sides. And the height of the top can be adjusted.
El estilo pompadour que se lleva degradado y texturizado. Pero puedes adaptarlo al largo que más te sientas cómodo, sin necesariamente llevarlo muy bajo a los lados. Y el alto de la parte superior puedes ajustarlo igualmente.
By adapting it to your style, you could make variations according to your age, tastes and preferences. I think it's very similar to what they call silver fox. It just doesn't go that textured or that long at the top.
Al adaptarlo a tú estilo podrías hacerle variaciones de acuerdo a tú edad, gustos y preferencias. A mi parecer es muy parecido al que llaman silver fox. Solamente que no va tan texturizado ni tan largo en la parte superior.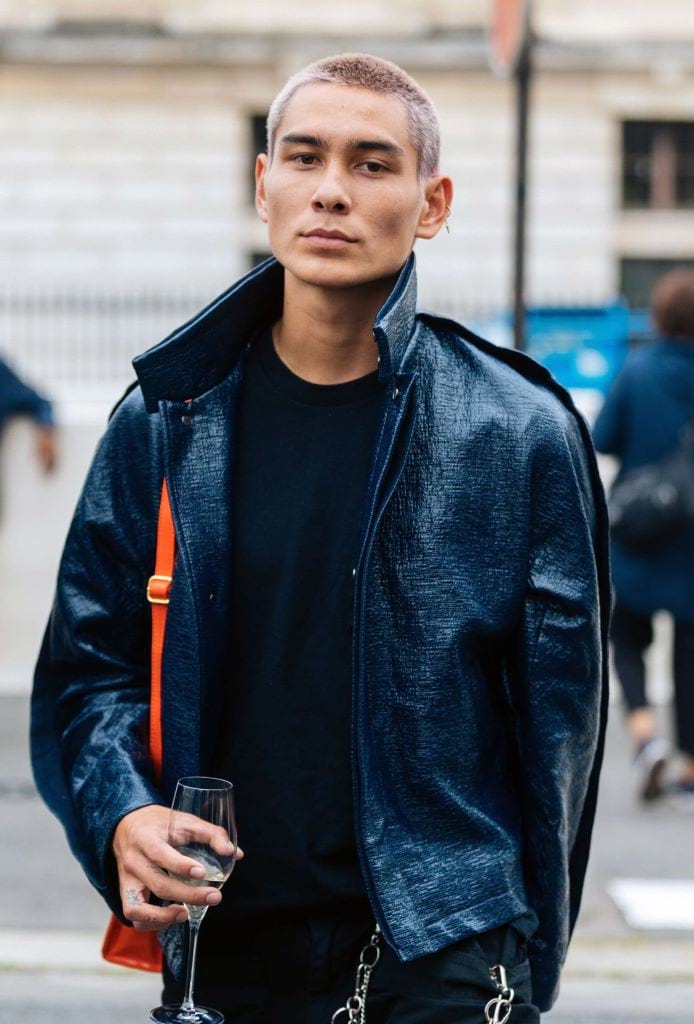 Flush cutting is another good option, or you can leave it a little longer if you don't like it so short. It stays in 2020, so you can opt for this option.
El corte al ras es otra buena opción, o puedes dejarlo un poco más largo si no te agrada tan corto. Se mantiene en este 2020, así que puedes optar por esta opción.
Encourage to love your hair as it is and not follow trends but adapt them to you. Looking for what you like and highlight your natural beauty. These are just a few options I found adaptable.
Anímate a amar tú cabello tal y como es y no seguir tendencias, más bien adapta las tendencias ti. Buscando lo que más te guste y resalte tú belleza natural. Estos son solamente algunos que me parecieron más adaptables.